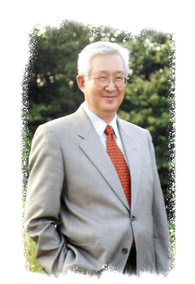 Dr. Thomas Hwang graduated from Seoul National University (B.S.) in Korea. He came to study in the United States in 1968. He studied in Michigan State University, and he graduated from Pittsburg State University with a Bachelor¡¯s (B.B.A.) and Master¡¯s degree in Business Administration (M.B.A.). After a successful business career in the U.S.A. and Canada, he was called by God and committed himself to becoming a servant of Jesus Christ. He studied and graduated from Tyndale University College and Seminary (M. Div.) in Canada, and Trinity Evangelical Divinity School (Ph. D.) in Chicago.

Later, he worked as a professor and a managing director of Tyndale University College and Seminary. When he was working as a full-time professor at Alliance Theological Seminary, he was selected as standing executive officer of the arrangement committee for GCOWE ¡¯95, assuming a pivotal role for the World Mission Conference in South Korea. He recognized the importance of mission ministries for the Third World through foreign workers, who began to come to Korea in early 1990¡¯s. So he moved the U.S. headquarters of Antioch Missions International (AMI) to South Korea, and he has been actively working for the mission ministries.

Now internationally recognized as an authoritative missiologist, he is serving Jesus as a primary lecturer of the local church leadership seminars through the AMI International Ministries in 25 different countries, as a spiritual leader helping the Third World mission works in person on the spot, as the president of AMI Center and AMI College and Seminary, and as the senior pastor of AMI Church in Korea. He wrote more than 10 theological books in Nepali, Burmese, English, Russian, Cambodian, Indonesian, Lao, Bengali, Hindi, Chinese and Korean, over 500,000 copies of which have been printed and distributed for free in the countries where many unreached people groups live.